Experience
Estate Fountains, a division of Carved Stone Creations, works with you every step of the way to turn your dreams into reality. We can design and create many different carved stone items like fireplaces, columns, sinks, bathtubs, statues, monuments, etc with the highest attention to detail.
But, our predominant focus is natural stone fountains that fit your exact specifications and design. We stock some fountain designs (of various shapes / sizes), but if you want a particular size / color / design – a special order fountain is easy to make as well.
Skilled Designers
Skilled designers can create custom designs you won't find anywhere else.
Or if you really love a design someone else produces (in an inferior substrate), we can have in created in GRANITE to last generations!

Deliver Quality
We specialize in designing and creating custom stone pieces for your estate.

Turnkey Management
We install our fountains nationwide (if needed), for your piece of mind that the project will be done correctly the first time!

Design Presentations
Photoshop design presentations are available on most projects, to help you visualize a fountain or statue in your home or business.
Collections
We believe nothing is impossible with stone. Custom designs are our specialty. Explore our endless design options within these product categories.
Or, if there are no photos that are exactly as you wanted in our photo gallery, getting a price on a special order item is very easy. You'd just need to send us the following information to this email address: sales@carvedstonecreations.com
Custom Designs
Timeless stone pieces made just for your home.
We specialize in creating custom designs. Whether you are looking for a small simple fountain or a large estate fountain, we work with you to design the piece of your dreams.
We use advanced 3-D modeling software to design each custom stone piece to make sure all pieces of stone fit together, as well as including any carving details you would like incorporated. (Google Images is a great resource!)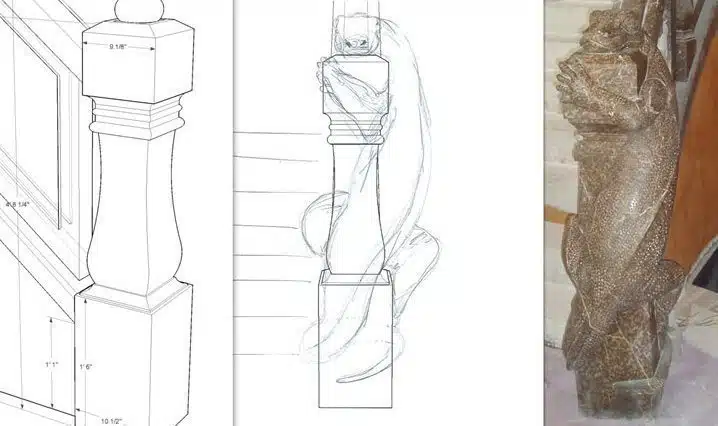 Our skilled artisans take the design and transform a block of natural stone into a beautiful piece you will cherish for years.
Custom-designed pieces have various benefits, including: